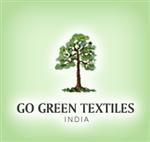 GOTS Organic Cotton Home Textiles Ranging From 120 to 550 TC, sateen/percale/Twill printed / dyed. We are a manufacturer and exporter of Bed Linen / Duvet Covers / Baby Crib Sets made out of GOTS certified 100% Organic Cotton.
Our thread count ranges from 120 to 550 TC, may it be percale/ sateen/ Twill etc. We are able to do smaller volumes as well, which normally a bigger company avoids. We are capable of doing all kind of stitchings may it be Marrowing or fagotting or pleats etc..
We also make baby crib sets with Filled and Quilted Organic cotton Bumpers. We offer Rotory Prints and Solid Dyed products. Printing is possible in Pigments and reactives both. Please let us know your requirements so that we can quote our best prices. Our running Thread counts include 300 TC sateen Natural, 200 TC percale, 220 TC sateen, 300 TC dobbies etc.
Minimum order quantity in our running fabric per colour/ design (per colourway) is 2000 Meters in wider width which is 290 cms finished width. If you order a new weave, the minimum order quantity is 10,000 meters in wider width and 20000 in smaller width.
Please get in touch with Go green textiles india from the Contact box on the right.