Desktop Publishing Product details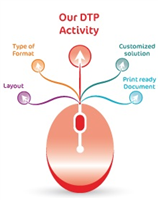 Product by:
Somya Translators Pvt. Ltd.


Desktop Publishing or DTP is mostly need in publishing industry. Somya Translators Pvt. Ltd. provides affordable and quality DTP services with the help of experienced DTP technicians. Our Desktop Publisher enable us to deliver all the dtp or typesetting projects ontime.

Please use the Contact form on the right for Desktop Publishing information and ordering.
Other Somya Translators Pvt. Ltd. Products
4 listed